About this event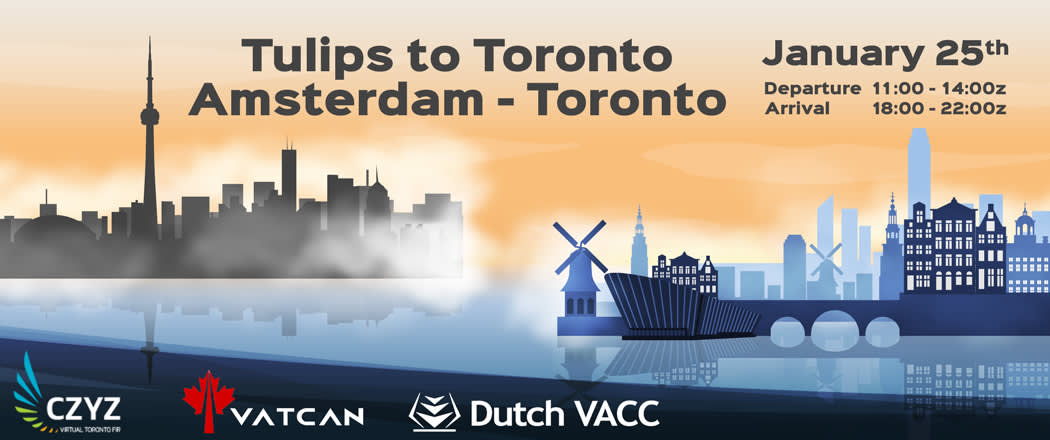 25 Jan 2020 18:00 - 22:00
Come join the Dutch VACC and VATCAN to celebrate Tulips to Toronto, a trans-Atlantic long-haul party! On Saturday January 25th, between 11:00 and 14:00 UTC, they will have Amsterdam Airport Schiphol (EHAM) staffed to the gills to accommodate your departure to Toronto Pearson (CYYZ), where VATCAN will provide a full crew to sequence you on final. All along the route they will staff the en-route facilities to supply you with everything you'd expect from a long-haul flight. So bring your favourite long haul aircraft, your business jet, or whatever you want, and join us for 7+ hours of packed airspace and professional air traffic control.
This event serves as a fantastic time to brush up on your Atlantic crossing skills and prepare for the bi-annual Cross the Pond. They hope you'll join us on the 25th for this event, and look forward to seeing many of you there!
Everything you need to know about Amsterdam (EHAM). https://www.dutchvacc.nl/visiting-pilots/ Everything you need to know about Toronto (CYYZ). https://torontofir.ca/pilots/ Everything you need to know about Oceanic Procedures. https://www.vnas.net/oceanic/
Star Alliance Virtual pilots will receive a 50% score bonus for any of the routings between EHAM and CYYZ flown on VATSIM, as listed below. Charter flights are not eligible for these bonuses. Please use the routing provided by the event organizers, not the routing provided by Star Alliance Virtual to ensure a smooth experience for all pilots involved.
NEW: The bonuses below will only be granted once you complete your flight and have flown your flight on VATSIM. They will not be granted for any flight between the destination pairs, as they would have been before.
Get a bonus for flying from Amsterdam Airport Schiphol (AMS/EHAM) to Lester B. Pearson International Airport (YYZ/CYYZ) on VATSIM during the event.