Hello Pilots,
This month's news update will highlight some development updates, as well as some VA update news.
Development Updates
VAS ACARS 3.2.0 was released yesterday which includes native support for X-Plane. Instead of using XPUIPC and the FSUIPC connector, you can now install the new vasxplane plugin and use the X-Plane connector. This should be more stable and will allow us to support more operating systems in the future. It will also allow us to add support for specific aircraft natively within the plugin. For information on how to get started, please see our renewed X-Plane guide on our support website. VAS ACARS 3.2.0 also incorporated numerous other changes and improvements, for a full list please check the release notes.
In the last few weeks, we have been improving our database infrastructure. This project is now complete and has resulted in a noticeable speed-up on some pages: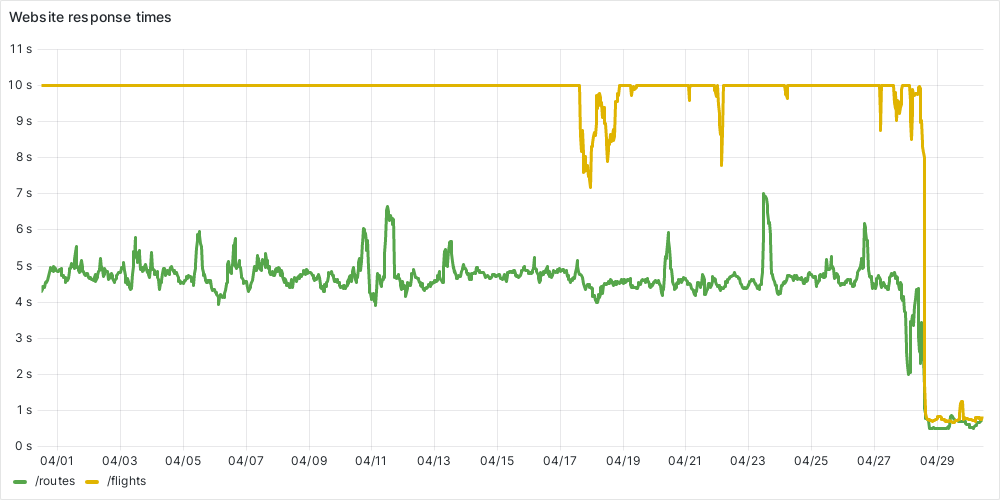 We have also made various other improvements to the website, such as adding the aircraft substitutions widget in a few more places, improving our map style by for example adding runway and taxiway names to the map, adding a "Flights Yesterday" statistic to our statistics page, and replacing "Boarding" by "Pre-departure" for non-passenger carrying flights on live flights. 18 more airports around the world have received airport gate information. The flight processor has been updated to support the 'Hotel' mode on the recently released Microsoft ATR airliners when VAS ACARS 3.2.0 is used. Finally, the Pilot Handbook and the Complete Guide to Flight Scoring have received updates to further clarify how flights are scored. If you have any suggestions for other improvements we can make, post them in the #suggestions channel on our Discord server or create a support ticket.
Tour updates
We have introduced a number of new themed tours, the aircraft tours selection is also being updated .
The monthly tour takes you from Scandinavia south to Ethiopia. If you have any suggestions on tours you would like to see please let us know on Discord.
Closed airspaces
Current scheduled flight time durations may need to be amended due to longer flying times on account of closed airspace. Exceeding the listed scheduled flight time for this reason is expected and not an issue. If your flight is given a remark incorrectly please let us know via support ticket.
Please adhere to these closures when performing flights on the VA. This will be the last time this is mentioned in our newspost and the pilot handbook has been rewritten for more information on this subject for future reference.
Event Updates
We are working with the vACEPG initiative to co-host more VATSIM events. Please check the Events page for more details, we hope to see you there! Please let us know via Discord what kind of events you would like to see! If you have other events on online platforms that you feel are a good match to include on the VA please let us know. To receive more frequent updates please subscribe to the Event Announcements notifications on our Discord server.
Closing words
As always if you have any suggestions or questions do not hesitate to let us know.
We would also like to remind you we have a Discord server. To join it, use discord.gg/gUTREjv.